As a young boy, I idolized sports figures. Willie McCovey and Mike McCormick of the San Francisco Giants were my heroes. I would go out in the back yard and emulate Willie's batting stance. I'd put on my glove and copy McCormick's wind-up and delivery. I guess I felt a connection, since they too were lefties like me. But as I grew up, my values changed.
When I starting performing magic full time, I soon realized that it was important to give my time and talents to those in need of laughter. It was an opportunity for me to brighten someone's day and put a smile on their face. When I appear at schools I'm reminded of myself, a shy boy trying to stay focused in class.  I hope that each time I perform for kids, I might be a voice of encouragement, or maybe ignite a spark of joy or inspiration that could make a difference to an impressionable young mind.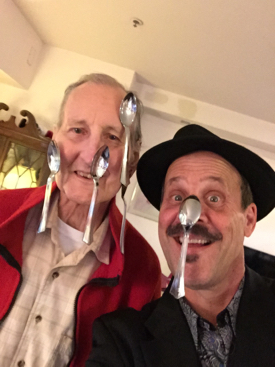 How do I define a hero? For me, It's people that sacrifice themselves and put someone else's needs first. It's our military men and women, fire fighters, police officers and those of public service.  I consider school teachers heroes.  They dedicate their lives to teaching our youngsters.
Arthur Ashe once said, "True heroism is remarkably sober, very undramatic. It is not the urge to surpass all others at whatever cost, but the urge to serve others at whatever cost."
Heroes are ones that give of themselves to another person or the community. By doing so they are making a difference – whether it's for a moment or for a lifetime. We can all be heroes by giving of ourselves, our resources, and our time.
My friend, Doug Jones who runs Mortgage Magic in San Jose requires his employees to give back to the community by adopting a charity.  My gym, FNS360 in Santa Clara asks each of their athletes to bring in peanut butter and jelly sandwiches one Friday a month. Then they deliver a box full of PB&J sandwiches to a food shelter in San Jose.  And during the week of Thanksgiving, they organize a group of volunteers to work at Sacred Heart Community Services to move boxes and canned goods, and serve meals to those in need.