Saturday, Aug 15th I will be zooming live to your home in my Magic Tricks for Kids – The Show. I'll be on your screen performing and making kids jaws drop and laugh like crazy. Hey, the parents are going to love it too. I'll teach a couple of cool tricks; give out a pdf of my magic trick booklet and talk about my new book that's available now on Amazon for pre-order.
I will also be announcing my virtual magic workshops starting Sept. 1st. With ticket purchase for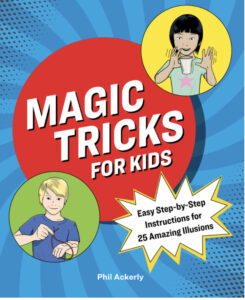 Saturday's show, you'll receive voucher good for a massive discount off the price of the workshop.
Tickets only $10 per household at: http://ackerlyfamilymagic.eventbrite.com