Bay Area Magician, Phil Ackerly performs his magic and illusions accompanied by The Peninsula Symphony Orchestra
Magic and Music.  They both have a lot in common.  They transport us to another place and they transform us by creating lasting memories.  This summer I had the thrill of performing my magic in front of a live orchestra and making memorable moments for 1,000 people to enjoy.
The Peninsula Symphony Orchestra (PSO) provided the music and backdrop to the magic.  Hillview Park in Los Altos was the setting. People brought picnic baskets, lawn chairs, blankets to enjoy a magical summer evening concert. The first half of the program featured the PSO playing a variety of classical pieces. Two highlights for me were Ravel's, "Pavane", and a performance by Joseph Wong, winner of the 2017 Young Musicians' Competition playing Sibelius Violin Concerto.  After a brief intermission, I took the stage with the orchestra playing, "Brass Fanfare" from La Peri, by Dukas.  Maestro, Mitchell Sardou Klein, and I traded places; I handed him my wand and he handed me his baton.  I conducted the 60-piece orchestra playing Mozart's, "Eine Kleine Nachtmusik" while Mitch wielded his new 'tool' and vanished it with a big, 'Ta-da!"  The audience loved it.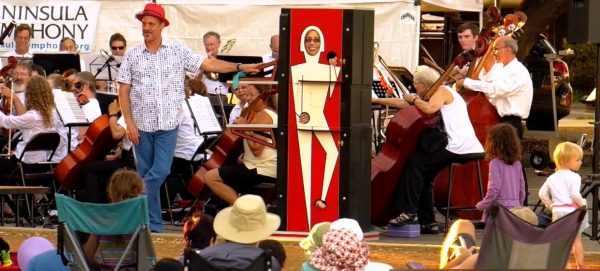 Later in the program, 2nd Violin, Susanne Bohl joined me on stage, then got sliced into three pieces as the orchestra played excerpts from Malcolm Arnold's, "Roots of Heaven".  Fortunately for her, and to the delight of the orchestra, she was safely put back together in one piece without a scratch. There's no truth to the rumor, however, that Susanne is now playing 2nd, 3rd, and 4th violin.
I have been performing my floating kid illusion for over 20 years, but this was the first time I presented it to live music.  Two kids were invited on stage, one became the wizard and the other become suspended in air. The orchestra enhanced the magic playing an excerpt from "Harry Potter and the Prisoner of Azkaban".  This was a real crowd pleasure.  The show came to a conclusion as I tired to escape from a strait jacket while the orchestra played, Mussorgsky's "Night on Bald Mountain". Assistant Conductor, Chad Goodman, enjoyed strapping me up and counting down the minutes.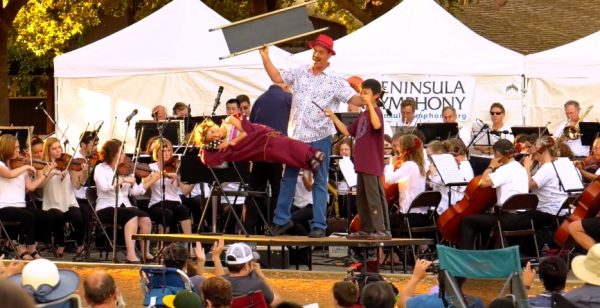 This event could not have been possible without the help of some important people. I want to extend my heartfelt thanks to the PSO board, especially Sheri Frumkin and Chelsea Chambers.  And a huge thank you to Paul and Liz Nyberg of the Los Altos Town Crier. And finally, a huge thank you to my friend, colleague and creative director, Lawrence Hass for his advice and direction.
It was a truly magical evening and one that I will always remember.