Looking back at 2016 and counting my blessings.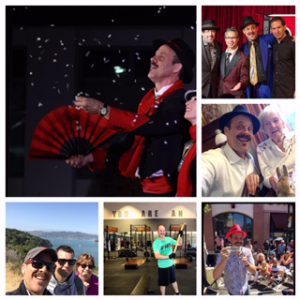 I've been gone from this blog for sometime, but don't worry I'm still here. The last 6 months had me extremely busy.  Here's a quick look back at 2016.
The year started out with repeat bookings for several clients.  My dinner theater shows continued to fill the house on Sundays at Moroccos. Guest performers included comedian, Jeff Applebaum.  My friend Larry Hass flew out from Austin, Texas to share the stage with me.
I was in Redwood City for my 10th year for their 4th of July celebration. I celebrated a milestone birthday on August 28. What year?  Let's just say I turned 29 – again! My son, Scott came home for a visit from Air Force and we took in hikes and a Coldplay concert at Levis Stadium.
In September, I was named athlete of the month at my gym, FNS.  We also got some press about our PB&J charity. Read about it here.
October had me driving all over the Bay Area performing from Napa down to Monterey.
November was my 2nd annual Night of Comedy and Magic for South Bay Blue Star Moms. Read the article here.
December wrapped up the year with me performing along with 80 dancers for the City of Milpitas and their tree lighting ceremony.
Today, this article appeared in the Santa Clara Weekly about me.  Be the first to read about it here.
As I look back at 2016 I am counting my blessings for the work and play.  I appreciate all my clients, colleagues and friends that have helped me to become successful. I wish you the best in 2017 and hope our paths cross again soon.