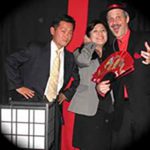 Happy New Year to all of you.  I have a lot to be thankful for in 2011  One big thanks goes to all my clients; both new and repeat clients.  I also receive lots of referrals from those that have either booked me or seen me at a party.  The picture above was taken at a company holiday party while I was performing mingle magic.  The gentlemen here is Martin.  I performed at his birthday party in June.  He was kind enough to refer me to the entertainment committee for his company's holiday party.  I made sure that he and his guest got a special performance.
The photo below was taken last January for Japanese insurance company party.  I dusted off my Japanese Magic Act that I first conceived back in 1984. (Wow! A long time ago!) And I have been asked back this month for the 4th year in a row to entertain their clients once again.
Word of mouth and repeat business is a huge part of any successful business, but it's not enough to sustain growth.  That is why I advertise in magazines and online.  I also continue to educate myself in all aspects of my profession, in acting, learning new tricks, and marketing and sales.