I hope everyone had a great holiday. In 2014, I entertained thousands of fans at corporate events, private parties and public shows. I want to share some of my favorite moments.
Next month I'll be returning to Morocco's in Mountain View in February with a special guest performer. Hope to see you there.
Wishing you a prosperous 2015.
Corporate Events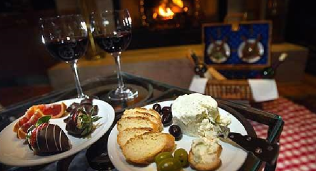 Having clients that call me year after year is a real blessing; some have been with me for over 10 years! December was filled with many company events both large and small.
One of the highlights was a company luncheon of 1,500 employees. I worked as emcee during the event and performed two 15-minute shows. Afterward, I stopped for a picture with a Michael Jackson impersonator.
Adult Birthdays and Retirement Homes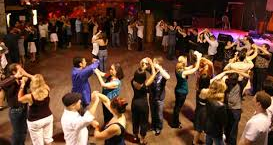 Some Californians argue that the perfect day is surfing the waves in the morning and skiing the mountains in the afternoon.
My perfect day is entertaining at a kid's birthday party in the morning, an adult birthday in the afternoon, and finishing up with a corporate event in the evening. One of the perfect days included performing at a 100th birthday party! In spite of her age, Marion was quite sharp and even assisted me with a few of my acts. Retirement communities are homes to some of the most valuable treasures of our community. However, sadly too many of the elderly are left here and forgotten.
Nothing is more magical than to make people smile. It's pleasure to perform at retirement communities and assisting living facilities and see residents light up when I walk through the door. In November, I made my annual visit to Magnolia Inn in Mountain View for a Thanksgiving dinner show. It was my 10th year.
Community Events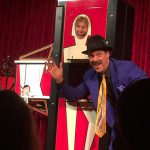 This is a picture from last year's Santa Clara Showtime, where I sliced a woman into three pieces – so she could multitask!
Santa Clara's Showtime is always a great show. The first half is an original melodrama followed by a good old fashion vaudeville-style show and all proceeds go to support senior services for Santa Clara's Senior Center.
If you've never been, then be sure to catch this year's Santa Clara Showtime (featuring yours truly) March 6-8. More details to following in next month's newsletter.
Upcoming Shows
Mystery Magic Dinner Theater Feb 15th
Enjoy a wonderful evening of romance, comedy, magic, food, and fun – all wrapped into one. Sham and Chef Jay will be serving delicious Moroccan cuisine while special guest, Jeffrey Korst and myself will dazzle you with amazing magic. It will be a romantic night.
Sunday February 15
Doors Open at 5:30PM, Dinner at 6:30PM
Showtime 7:30-8:45PM
Morocco's Restaurant 873 Castro St. Mountain View