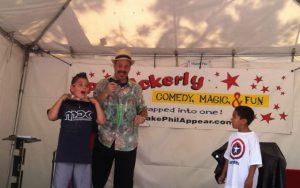 That's how my summer is going.  I looked at my calendar the other day and realized that I'm performing 30 consecutive days from July 15th to August 14th.  I counted 60 gigs in that time frame.  This includes corporate parties, cocktail receptions, adult and kids' birthdays, schools, libraries and several magic classes.
So, what does one do after 30 days of performing?  Go to Disneyland, of course!  By the time you read this, my son and I will be enjoying four days with Mickey and the gang.  It will be a real treat to "be entertained" and enjoy watching someone else perform.
The day after we return home, it's three more shows.  And I'll be busy through the end of August with a few corporate gigs.