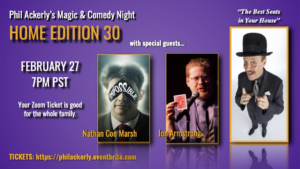 Phil Ackerly's Magic & Comedy Night – Home Edition #30
MAGIC & COMEDY – HOME EDITION is a virtual variety show appearing on your screens to brighten the new year.  These Zoom shows have been enjoyed by thousands since stay-at-home orders were put in place in March 2020. Phil and his special guests bring the laughter and joy, and provide a sense of relief that we so desperately need during these times.  When Phil is not producing his Home Edition shows, he's creating virtual magic shows for corporate and private parties.
Click here to order your ticket on Eventbrite. 
Sit down in a comfy chair with your dinner, snacks and drinks and enjoy a fun night of magic and comedy. on the virtual screen. You have the best seats in the house – your house – as your host, Phil Ackerly along with his special guests will amaze and amuse you for a solid hour – and maybe a little longer.
Your ticket is good for viewing on your computer screen, smart tv, even your phone and everyone in your house.  Purchase additional tickets for friends and family to enjoy from their homes.
On tonight's show, Phil's guests are….
JON ARMSTRONG – winner of numerous awards, including Close Up Magician of the Year, Jon Armstrong is best known for his world-class magical talent and for being funny. Not just magician funny—actually funny.
Jon honed both skills beginning at age 20, when he became the resident magician at Disney World, and then a recurring headliner at Caesar's Magical Empire. Soon after, Jon started touring all over the world, performing in over 30 countries to date.
You also have seen him amaze Kathy Lee on "The Today Show", cause Penn on CW's "Penn and Teller's Fool Us" to exclaim his act as "the most original I've ever seen!", and have Jay Leno profess his love to him on "The Tonight Show".
When you see him live, Jon hopes that you laugh loudly, are amazed by his skills, and most of all, feel like you made a new friend.
NATHAN COE MARSH –  His blend of genuine warmth, hilarious interaction, and stunning impossibilities has been seen in venues as diverse as the yacht of an NFL team owner, the Top of the World club in Thule, Greenland, the iconic Magic Castle in Hollywood, and performances in French Polynesia, the Mexican Riviera, Central America, the mountains of Banff, and on Penn & Teller's prime time TV series Fool Us.
Nathan's corporate event performances led Event Solutions magazine to name him a finalist for "Entertainer of the Year," while MAGIC Magazine described his work as "a breath of fresh air." In addition to performing, Nathan writes for Genii; the leading trade journal for magicians.
He is the creator of Nathan Coe Marsh's Virtual Magic, a program for digital events that allows guests to experience the impossible in their own homes.
Nathan lives in Orlando, Florida.
Purchase your ticket good for access for whole household on one device
http://philackerly.eventbrite.com