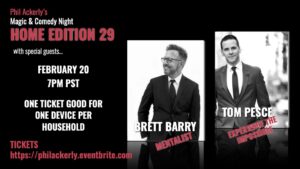 Phil Ackerly's Magic & Comedy Night – Home Edition #29
Sit down in a comfy chair with your dinner, snacks and drinks and enjoy a fun night of magic and comedy. on the virtual screen. You have the best seats in the house – your house – as your host, Phil Ackerly along with his special guests will amaze and amuse you for a solid hour – and maybe a little longer.
Your ticket is good for viewing on your computer screen, smart tv, even your phone and everyone in your house.  Purchase additional tickets for friends and family to enjoy from their homes.
Click here to order your ticket on Eventbrite. 
MAGIC & COMEDY – HOME EDITION is a virtual variety show appearing on your screens to brighten the new year.  These Zoom shows have been enjoyed by thousands since stay-at-home orders were put in place in March 2020. Phil and his special guests bring the laughter and joy, and provide a sense of relief that we so desperately need during these times.  When Phil is not producing his Home Edition shows, he's creating virtual magic shows for corporate and private parties.
On tonight's show, Phil's guests are….
TOM PESCE – is one of the country's most sought after corporate and motivational entertainers. His long client list includes companies such as Duracell, Amazon, Zoom, NBC, Deloitte, Morgan Stanley, Nasdaq, and more. Tom has toured the country as a headliner for Princess Cruises and regularly performs for some of the most prestigious resorts, theaters, and Fortune 500 companies in the world. Known for combining his unique brand of fast-paced "high-octane" magic with his genuine ability to connect deeply with any audience, Tom has created a visual performance and speaking style that will leave your clients and guests talking about him for years to come. Whether he's entertaining an audience on stage, dazzling guests at a virtual event, or hosting a convention for thousands, Tom creates an experience that is totally unique and absolutely unforgettable. Tom Pesce is a highly skilled performer, speaker, and emcee with over 20 years' experience. He has earned multiple graduate degrees in the fields of education, school district administration, and advanced leadership studies. Tom lives in Ridgefield, CT with his wife, Becky, and their three children.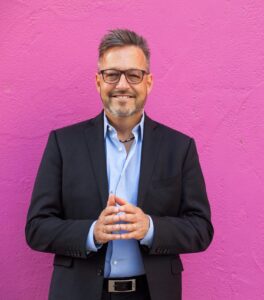 BRETT BARRY – Concentrate on a random word from a recent book while Brett's back is turned; re-imagine the name of a treasured first pet projected on a huge movie screen; close your eyes and remember a dream destination – the cold sand on your feet. In seconds, Brett peels away and recites those little details known only to the participants. "Your childhood dog was a beautiful all Black German Shepherd, which your dad brought home when you were around age 7 or 8. The male dog's name was SAMSON and he had small white spots on his ears." But how did he know? Brett makes no claims to psychic phenomena, yet in most cases he knows impossible things that he should not know. But he does.
Purchase your ticket good for access for whole household on one device