Fall is here.  That means the leaves are turning brown, falling to the ground and pumpkin spice lattes are 'in season.'  That also means it's time to get your tickets for another great Saturday night.
On the show is…
TOM PESCE Tom is one of the country's most sought after corporate and motivational entertainers. His long client list includes companies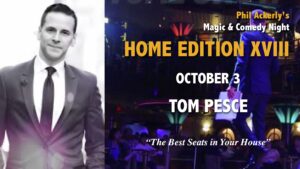 such as Duracell, Asia Bank, Deloitte, Morgan Stanley, Nasdaq, Neuberger Berman, First Trust Portfolios, and more. Tom has toured the country as a headliner for Princess Cruises and regularly performs for some of the most prestigious resorts, theaters, and Fortune 500 companies in the world. Known for combining his unique brand of fast-paced "high-octane" magic with his genuine ability to connect deeply with any audience, Tom has created a visual performance and speaking style that will leave your clients and guests talking about him for years to come. Tom Pesce is a highly skilled performer, speaker, and emcee with over 20 years experience. He has earned multiple graduate degrees in the fields of education, school district administration, and leadership studies. Tom lives in Ridgefield, CT with his wife, Becky, and their three children.
ERIC HENNING People often tell Eric that he reminds them of the great magicians of the past. That's no coincidence, since he has spent more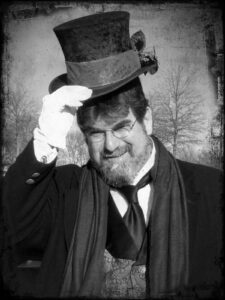 than three decades studying and performing some of the greatest magic in history. While still a student, Eric's love of magic's lore took him to the Maryland Renaissance Festival. More recently, the National Theatre featured his "Turn of the Century" – a Victorian-style show with wonders not seen for a hundred years.
His award-winning blend of wit and wizardry has been seen around the world, from the streets of Paris to the White House, where he has performed for President Obama and the First Family.Add in three Presidential Inaugurals and five other White House appearances, and you have a truly Presidential prestidigitator! Eric Henning is also an accomplished speaker, having reached the quarterfinals of the World Championship of Public Speaking. He has even been overseas to speak on behalf of the U.S. government!
Join us.  Tickets at http://philackerly.eventbrite.com