We wrap up the month with show #17.
My special guest is…
FRANK OLIVIER   Frank brings his wild comedy to the Home Edition stage.  This comic juggler and magician will have you in tears.  You'll be laughing your butts off – I guarantee it.  Frank has headlined on my fundraiser for the South Bay Blue Star Moms. He's been seen on the TONIGHT SHOW, and starred in Las Vegas in his one-man show, Twisted Cabaret. Recently his was a feature performer at  TEDx on the topic of happiness. Frank has also appeared on stage with Robin Williams, Whoppee Goldberg, Dana Carvey and Jim Belushi.
Find out more about Frank at www.funnyfrank.com. Join Frank's Patreon page too and you'll get information about his shows and much much more.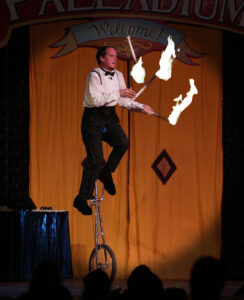 GET YOUR ACCESS TICKET TODAY!!!  Your ticket purchased on Eventbrite is good for one device per household.  So, the whole family can enjoy a show in the comfort of their homes for one low price.
TICKETS AT: www.philackerly.eventbrite.com
I'm wrapping up 5 months bringing our magic and comedy nights to your screen.  I'll keep doing this as long as you keep coming.  I am doing my best to stay positive and provide the much need laughter in our lives during these times
Find me on Facebook for posts about the shows.
.