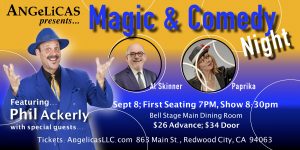 Angelicas is your host for Magic Dinner Theater featuring Phil Ackerly's Magic & Comedy Night with his special guests.
This is a sophisticated show of award winning sleight-of-hand magic, illusions, comedy and audience participation.
SEATING STARTS AT 7:00PM
SHOWTIME 8:30PM – 10:30PM
ADVANCED TICKETS – $26. REGULAR SEATING; $32. PREMIER SEATING; $38. FRONT ROW SEATING
On the show are the following performers…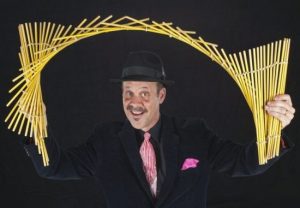 Phil Ackerly – Bay Area's Favorite Performer – Phil left his cushy job working for a Silicon Valley high tech company and became one of the busiest performers in the Bay Area. He has captured first place awards for his magic, comedy and close-up sleight of hand from leading magic organizations. He's a featured performer at the Magic Castle in Hollywood, Off Broadway at Monday Night Magic in New York and The California Magic Dinner Theater in Martinez. His has presented over 10,000 shows in his career. Each year he produces a show raising funds for the troops to pay for the shipment of care packages during the holidays.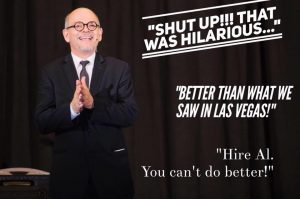 Al Skinner – Corporate Comedy Magician – A featured performer on Carnival Cruise Lines, master magician Al Skinner is one of the funniest performers in magic today.  Al Skinner has been making audiences laugh with his hilarious comedy and amazing magic for over 15 years. Known as "The King of the Banquet Entertainers", Al is a true Comedy Magician. His Magic is Interactive, Clean and Amazing Entertainment guaranteed to create a memorable experience. Three times awarded stand-up Magician of the Year'94 and a featured performer on Carnival Cruise.  Here's more info about Al: http://alskinner.net
Paprika – Magic with a dash of spice – We are proud that Paprika will be seasoning the stage at Magic & Comedy Night.  She's wowed the crowds as a comedy juggler for many years throughout the world, and has won numerous awards along the way. Working now as a magician, Paprika is a rare and unique breed with very few female illusionists in the world. She loves the art of bringing mystery and magic to people's lives and tailors the "Spice" to the level of her audiences.  Read more about Paprika at; http://paprikamagic.com/about.html
THE VENUE – Angelicas located in the historic district of downtown Redwood City is your host.  Executive Chef, Larry Keck, offers a unique style of California cuisine with Asian and European fusion.  Be sure to order your show tickets in advance and get their early to enjoy the exquisite cuisine.  Seating begins at 7pm.
TICKETS ON SALE NOW  – Tickets available starting July 8th at http://www.angelicasllc.com