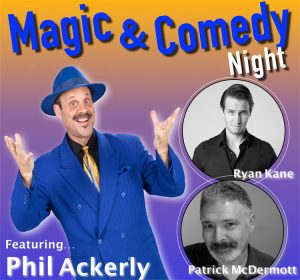 Angelicas is your host for Magic Dinner Theater featuring Phil Ackerly's Magic & Comedy Night with his special guests.
This is a sophisticated show of award winning sleight-of-hand magic, illusions, comedy and audience participation.
SEATING STARTS AT 7:00PM
SHOWTIME 8:30PM – 10:30PM
ADVANCED TICKETS – $22 REGULAR SEATING; $28. PREMIER SEATING; $32 FRONT ROW SEATING
On the show are the following performers…
Phil Ackerly – Bay Area's Favorite Performer / Phil left his cushy job working for a Silicon Valley high tech company and became one of the busiest performers in the Bay Area. He has captured first place awards for his magic, comedy and close-up sleight of hand from leading magic organizations. He's a featured performer at the Magic Castle in Hollywood, Off Broadway at Monday Night Magic in New York and The California Magic Dinner Theater in Martinez. His has presented over 10,000 shows in his career. Each year he produces a show raising funds for the troops to pay for the shipment of care packages during the holidays.
Ryan Kane – sleight-of-hand artist / Ryan Kane is a full time magician and comedian thriving in San Francisco. He is frequently featured by groups who need to guarantee that their events are an unforgettable success. His extensive resume includes companies such as Microsoft, Costco, and Intel. Ryan Kane's magic has brought him from Las Vegas to New York. He is a featured performer at casinos in Reno and at the top destination in San Francisco, Pier 39.
Patrick McDermott – Comedian /We are thrilled that Patrick is joining us for Magic & Comedy Night.  Patrick has performed at comedy clubs and theaters throughout California, such as the San Francisco Punch Line, the San Jose Improv, Marin Center and the Throckmorton Theatre. He performed at the World Series of Comedy in Las Vegas, and has opened for comics such as Louie Anderson, Nick Swardson, and Rob Schneider.
THE VENUE – Angelicas located in the historic district of downtown Redwood City is your host.  Executive Chef, Larry Keck, offers a unique style of California cuisine with Asian and European fusio.  Be sure to order your show tickets in advance and get their early to enjoy the exquisite cuisine.  Seating begins at 7pm.
TICKETS ON SALE NOW  – Tickets available online at www.angelicasllc.com/entertainment.htm