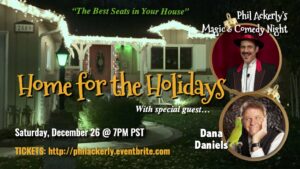 Phil brings MAGIC & COMEDY – HOME FOR THE HOLIDAYS XXVI to your screen during these trying times.  This marks his 26th show. Special guests join Phil making for a variety show of magical talent.  In between his Saturday shows, Phil is creating magic on Zoom for corporate and private parties. He has also created magical routines for his gym, FNS.  Here is his recent creation, Balance.
Tickets on Sale now at http://philackerly.eventbrite.com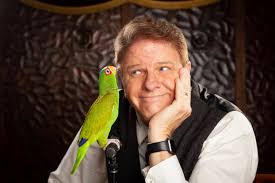 On the show is… DANA DANIELS 
Recognized by his peers as one of the best comedian magicians working today, Dana Daniels has been named, Comedy Magician of the Year from the Academy of Magical Arts, Two time Stage Magician of the Year from the Academy of Magical Arts,  and Awarded the Jimmy Durante Comedy Award.
Dana is a regular headliner at Maui's #1 evening destination, "Warren & Annabelle's Magic." Dana is also one of the stars of the hit touring show "The Illusionist – Turn of the Century" where he has performed in Dubai and Australia at the Sydney Opera House. He has also performed on Broadway at the famous Palace Theatre where they broke box office records as the most successful magic show in Broadway history.  Dana's past television appearances include Stand up Live, America's Got Talent, Evening at the Improv, CBS Morning Show, NBC's Comedy Club, News Radio, Masters of Illusions, Lance Burton's Magic Special and the best selling clean comedy DVD series "Thou Shalt Laugh."  Dana has opened for such stars as Ray Romano, Amy Grant, Vince Gill and Randy Travis
Also on the show is COMEDIAN DAN ST. PAUL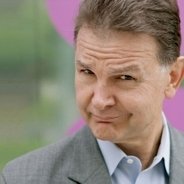 Dan St. Paul has been chronicling his life on stage for 30 years. After turning fifty, he discovered his body changing ("I'm a cylinder now. I can wear a belt anywhere on my body."), his memory faulty ("I have eight pair of reading glasses and I have no idea where they are."), and dealing with a lazy teenager ("I have a bumper sticker that says 'My Son's Just Getting By At Hillsdale High'.").
Instead of sitting home and stewing about, he's touring the country with "What's Funny After 50?"
Dan has been a national headlining comedian at some of the top comedy clubs in the country. He has appeared on NBC, ABC, FOX, Comedy Central, A&E, and VH-1. Dan has also opened for such celebrities as Jerry Seinfeld, Jay Leno, Ringo Starr, Natalie Cole, Hall and Oates, Vince Gill, Clint Black, and even the San Francisco Symphony ("I knew them when they were just a garage band.") His "The First Baseball Game" is one of the most requested comedy pieces on the syndicated Bob and Tom Radio Show.