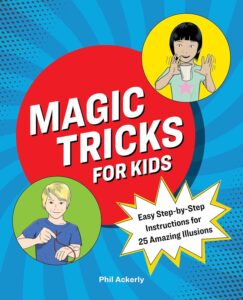 In 2019 I was asked to write a book teaching tricks that are fun and easy to learn. Now you can own a copy too. Published by Rockridge Press, Berkeley, CA., the tricks inside are intended for kids, 5-12 years, but I made sure thesecool tricks can be just as much fun for teens, adults, parents and grandparents to learn and perform for family and friends.
Ask me to autograph your book when you order. Send me a
n email and tell me who to address the book to.  I'll get it in the mail right away.
Message me at ackerlymagic@gmail.com.