Comedy & Magic Night starring Phil Ackerly and his very special guests
Phil Ackerly is marking his 4th year raising money to support South Bay Blue Star Moms. The show features top talent in the world of magic along with top notch comedy from some of the best.  Get ready to be amazed and amused in this 90-minute show.
A portion of the proceeds from Comedy & Magic Night will go to pay for the shipment of care packages to our troops stationed overseas during the holiday season.  Last year Phil raised over $3,000 which helped the South Bay Blue Star Moms (SBBSM) pay for the shipment of about 600 care packages. The event was a sell out and this year.
Phil and his wife, Terry have a son in the United State Air Force and are members of the SBBSM.  "These care packages bring a little bit of home to our troops. They are filled with goodies, toiletry essentials and handwritten letters. When you hear from the men and women who receive a care package and how much it touches their hearts, that's when you feel the real meaning of Christmas," adds Phil.
Don't miss a fun night of comedy and magic in the South Bay and at the same time supporting our military men and women.
Headlining our show is…. Michael Finney
Give him a deck of cards, a pair of scissors plus some rope and you are in for the time of your life.
Comic magician Michael Finney, received the Academy of Arts Award for Comedy Magician of the Year in Hollywood. Similar to the Academy Awards for movie stars, the entertainers are nominated and voted on by members and peers of the magicians' craft. Michael has also received the Academy of Magical Arts Parlor Magician of the Year Award.
Michael has lived in Phoenix, Arizona since 1978. He began as a magic bartender at the Golden Eagle Restaurant and at the time he was hailed as one of Phoenix's best bartenders by the New Times. For three years he was the "house magician" at Legend City Amusement Park. He then went on to Los Angles and began working comedy clubs while still living in Phoenix.  In 1986 Finney was a finalist on Star Search with Ed McMahon. In 1987 he received the Silver Lions Head from Siegfreid & Roy for his comedy and magic performances.
Michael continued to perform at comedy clubs across the United States up to 40 weeks a year. He made six appearances on Fox's Comic Strip Live, has appeared on HBO's Comic on the Road, Sunday Comics with Lenny Clark, Bud Friedman's Evening at the Improv and two NBC specials hosted by John Ritter: World's Greatest Magic and World's Wildest Magic.  Michael was also invited to perform at the inauguration of President Bush in January 2001. He is the recipient of the Jimmy Durante Award for Comedy through the Fraternal Order of Eagles in Reno, Nevada.
Phil Ackerly says, "I have been working to get Michael on my show for the past 3 years and I am happy that the stars lined up perfectly this year.  I first saw Michael perform at Rooster T Feathers back in the 80's, and it's going to be a blast sharing the stage with him."
Also on the show is Bay Area Comedian, Mickey Joseph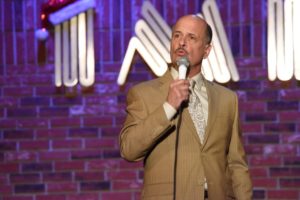 Stand-up Comic Mickey Joseph was a finalist in 1998 SF Comedy Competition. Throughout the 80's and 90's, he appeared on ABC'S America's Funniest People, NBC'S Friday Night Videos, and FOX TV'S Comedy Day. He has also headlined Harvey's in Portland, Indianapolis Comedy Connection, Governors in NY, the Icehouse in Pasadena, Comedy Underground in Seattle, Rooster T. Feathers in Sunnyvale. and many more.
In 2005 Mickey was cast as Joey Bishop in The Rat Pack is Back! at the Post Street Theater in San Francisco. He moved to Las Vegas after an 11 month run in San Francisco and performed at The Rio Hotel and Casino and in theaters across the country. 1753 performances. " I did that show so much, my toupe started going bald."
He also appeared on the History Channel's, Ten Things You Didn't Know About The Rat Pack. He wrote and directed Van Gundy's the Man With the Big Nuts. A video that is currently posted on Youtube.
"Mickey celebrates his triumphant return to his roots as one the Bay Area's best stand up comic. I am thrilled to have him on my show to crank up the comedy a few notches," says Phil.
Also, there will be a surprise guest performer. Don't miss this.
Advanced Tickets are only $25 general admission with a 2-item minimum. Must be 21 with valid ID.   Limited seating – We will sell out!  Order your tickets on line.  Doors open at 7:15pm.  Showtime is 8pm.  If available, tickets at the door will be $35.