TICKETS ON SALE NOW!!!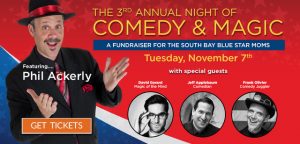 It's my 3rd annual Night of Comedy & Magic to support South Bay Blue Star Moms. A portion of the proceeds will go to build and ship care packages to the troops.  Last year we raised close to $1,800 and shipped over 450 boxes to military men and women overseas.  Come on out for a good time and for a good cause.  On the show will be the mind reading magic of David Gerard, the comedy of Jeff Applebaum and my very special guest, Frank Olivier, a world class performer. Yours truly will emcee and host the show.  Tickets are only $20 general admission with a 2-item minimum. Must be 21 with valid ID.  Rooster T Feathers holds about 100 and we will sell out.  So, order your tickets on line.  Doors open at 7:15pm.  Showtime is 8pm.
We sell out every year.  If you can't make it, I have set up a GoFundMe page set up where you can donate the cost of a ticket to support this event.
Order your tickets online today. We will sell out!
Click here…Rooster T Feathers
Thank you to our sponsors and advertisers…
Detati Communications
Huntford Printing and Graphics
FNS Training Center
Rotary Club of Santa Clara
Andy Ratterman
Soundwaves TV
Ghost Hunt San Francisco
Scotia Salon
UPS Store Santa Clara
Susanne Bohl
Joseph Bradley
Fine Arts & Eats
Vitarelli Clothing