Performing for both private and corporate audiences for over 20 years,
Phil continues to amaze and entertain both kids and adults with magic, comedy and fun.
Voted Bay Area's Best Entertainer 5 times!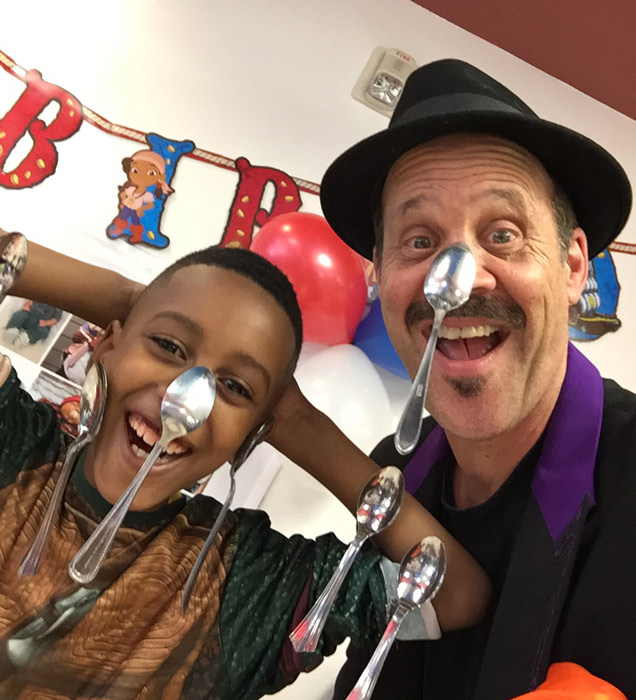 Family Fun
Looking for the right entertainer for your family fun event?  Is it a party for kids, or adults or a combination of both?   Phil's show is a blend of comedy and magic that's as family friendly as you can get.  Whether it's a birthday party, school assembly, library, or community event, Phil will present a show that will capture the attention of the young and the young-at-hearts with his witty humor and amazing magic skills.  Phil connects with his audience on a human level with expert sleight-of-hand magic, amazing illusions, family friendly humor and story telling that will make your event unique and memorable for everyone.
"I was thrilled to see how awestruck the deputy sheriffs' were! You entertained and amazed! Thank you, Phil, for helping us create a truly memorable evening."
"Phil made our fundraising Gala unique – not just another boring sit-down dinner but the talk of the town for several weeks."
"He really did deliver with his show, he made my son levitate and also made a bunny appear… that really wowed the kids!"
"Your ability to interact with the children and make them laugh all the while keeping their attention is a testament to a true professional."
"What we loved the best about Phil's show were the personal touches that made our daughter and her guests all feel special."
Corporate Fun
For more than 25 years, Phil has entertained and baffled audiences at corporate events  with his sleight-of-hand skills and witty humor. Phil's versatile style and showmanship makes him a favorite entertainer.
If you're looking to spice up your next corporate event or party, then book Phil. He takes the mystery out of your entertainment needs without making your budget disappear. And best of all, Phil will make your event a success and YOU the star.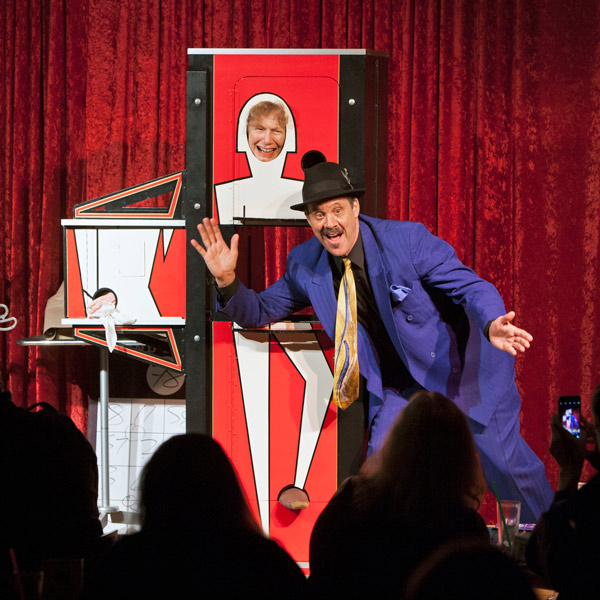 About Phil Ackerly
What does one do when they get their lay off notice in the Silicon Valley semiconductor company?  Become an entertainer, of course!  "It's was a lateral move", says, Phil Ackerly, a Bay Area native making his home in Santa Clara, where "the homes were more affordable". Since 1992, Phil has been following his passion performing his theatrical magic shows at company events and private parties for all ages from the young to the young at heart.  "When I perform it's really magic.  I walk in a room as a stranger and after my performance, I'm part of the family."
Phil's act has taken him across the country to off Broadway at Monday Night Magic, Atlantic City, New Orleans, Las Vegas and the Magic Castle in Hollywood, California. nPhil's combines his experience from the theater with sleight-of-hand magic, along with good clean humor and a few stories that tug at your heartstrings.  And for that special occasion, Phil personalize his performances for a special event or to celebrate that special someone.
Awards:
1st Place Strolling Magic – International Brotherhood of Magicians, San Jose
1st Place, Close-up – Pacific Coast Association of Magicians (PCAM)
2nd Place, Showmanship – PCAM
2nd Place, Stage – Oakland Magic Circle
1st Place, Close-up – Mystic
1st Place, Humorous Speech – Toastmasters
2nd Place, Stage – Oakland Magic Circle
1st Place, Stage – Society of American Magicians
Voted Bay Area's Best Party Entertainer for 5 years by Bay Area Parent Magazine

Blog: News & Stories From Phil
You can hear my interview on the Brian Copeland show on KGO 810AM, San Francisco. Brian invited me on his show for the second year to talk about my Night of Comedy & Magic Show to benefit South Bay Blue Star Moms.  I even managed to do a card trick and surprised him with the results. Take a listen... https://audioboom.com/posts/6407172-october-18-2017-theater-row-comedy-magic-night You can tune into the Brian Copeland show weekdays from 2-4pm.
CATCH PHIL LIVE AT…
March 9
5:30 pm

-

10:30 pm

March 10
5:30 pm

-

10:30 pm
Want magical entertainment at your next event?
Give us the details and you can see Phil appear.