Magic for Corporate Events
Let Phil make your event shine.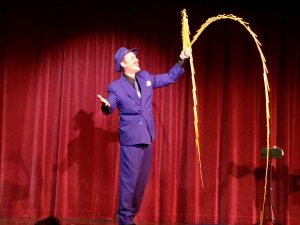 For more than 25 years, Phil has entertained and baffled audiences at corporate events  with his sleight-of-hand skills and witty humor. Phil's versatile style and showmanship makes him a favorite entertainer.
If you're looking to spice up your next corporate event or party, then book Phil. He takes the mystery out of your  entertainment needs without making your budget disappear And best of all, Phil will make your event a success and YOU the star. You'll see smiles on everyone's faces and receive kudos for an outstanding event. Now that's real magic!
Corporate Events & Trade Shows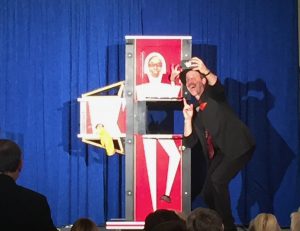 Phil's corporate magic and illusion show combines sophisticated sleight of hand magic, illusions, comedy and audience participation to create a unique show for your company.  Phil invites the President or CEO on stage to perform a magic trick and pokes some fun at the same time. It's the large illusions Phil loves to perform. Instead of floating his assistant in the air, Phil finds someone in the audience and floats them in the air.
Phil has worked in the electronics industry in engineering, sales and marketing functions since 1978. Furthermore, his skills as a magician and toastmaster give him the ability to understand a client's trade show goals and objectives, and to sell their message in a professional and effective manner.
"I was thrilled to see how awestuck the deputy sheriffs' were! You entertained and amazed! Thank you, Phil, for helping us create a truly memorable evening."
"Phil made our fundraising Gala unique – not just another boring sit-down dinner but the talk of the town for several weeks."
"Phil's act is hysterical. Everyone at our company BBQ was amazed. Phil involved our President, COO, and CFO in his show and created a good time for us all."