About Phil Ackerly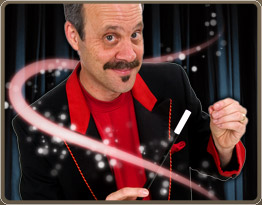 A THEATRICAL BLEND OF COMEDY, MAGIC AND FUN WITH A PERSONAL TOUCH.
What does one do when they get their lay off notice in the Silicon Valley semiconductor company?  Become an entertainer, of course!  "It's was a lateral move", says, Phil Ackerly, a Bay Area native born in Palo Alto and now making his home in Santa Clara, where "the homes were more affordable".  And a good move it was.  Since 1992, Phil has been following his passion performing his theatrical magic shows at company events and private parties for all ages from the young to the young at heart.  "When I perform it's really magic.  I walk in a room as a stranger to everyone and after my performance, I'm part of the family."
Phil's act has taken him across the country to off Broadway at Monday Night Magic, Atlantic City, New Orleans, Las Vegas and the Magic Castle in Hollywood, California.
Phil's combines his experience from the theater with sleight-of-hand magic, along with good clean humor and a few stories that tug at your heartstrings.  And for that special occasion, Phil personalize his performances for a special event or to celebrate that special someone.
Give Phil a call today and see how he can make your party memorable and personable. Book Phil and you'll receive high fives for outstanding event and you'll become the star.  Now that's magic.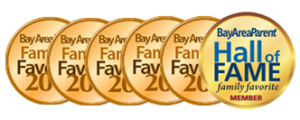 Awards:
1st Place Strolling Magic – International Brotherhood of Magicians, San Jose
1st Place, Close-up – Pacific Coast Association of Magicians (PCAM)
2nd Place, Showmanship – PCAM
2nd Place, Stage – Oakland Magic Circle
1st Place, Close-up – Mystic
1st Place, Humorous Speech – Toastmasters
2nd Place, Stage – Oakland Magic Circle
1st Place, Stage – Society of American Magicians
Voted Bay Area's Best Party Entertainer for 5 years by Bay Area Parent Magazine
Other Event Services Include:
Event Consultation
Theme Props and Decor
Awesome Balloon Decorations
Entertainment Procurement and Contracting
Jazz, Rock 'n' Roll, Big Band
Contemporary Musicians
Magicians, Jugglers, Ventriloquists, Clowns
Face Painting, Arts and Crafts, Balloon Artists
Comedians, Comedy Stage Shows
Children's Entertainers
Special Holiday Stage Shows
Costume Characters
Cartoon Artists
Disc Jockey's, Karaoke VJ's
Solo Piano Players, Guitarists, Percussionists
Vocalists, Duos, Trios, etc.
"You made us all laugh today- thank you for making our day shine! My family adored your performance- thank you for making them feel special. Keep going with your passion- you're the best."
"Your ability to interact with the children and make them laugh all the while keeping their attention is a testament to a true professional."
"I worked for Santa Clara County Purchasing for over 25 years and loved my work. It is wonderful that you too have a passion for your work. Even greater than you encourage the spark in each of us and remind us be giving of ourselves."